Created at CIID (Copenhagen Institute of Interaction Design) | Interaction Design Program 2020
Team: Alejandro Segura | Diana Pang | Martin Altanie | Ooi Shin
Tools: Service Design Frameworks, Figma, Illustrator, Photoshop
'Soulvenir'

is a service designed to connect travellers and local makers for authentic experiences through souvenirs while enabling collaborations within the local communities in Costa Rica.
Best-known for its rainforests, beaches and biodiversity, Costa Rica is a culturally rich and diverse country with best-in-class healthcare in Latin America. The Central Valley region, home to about 70% of Costa Rica's population is often overlooked by travellers as a transit destination, where most of the cultural and economic activities take place.
Tasked to reframe tourism to become more resilient and life-centred in Costa Rica after Covid19, the team explored developing regenerative tourism through the small country's hyper connected communities and thriving local craftsmanship. 
Through our research with Costa Rica tourism industry leaders, local makers, and travellers who have been to Costa Rica, we discovered people look for genuine connections between experiences and tangibility, with souvenirs extending stories of people beyond time and space. 
Most makers operate in a brick-and-mortar model with limited digital presence and resources to market their products. While makers acknowledge the community is hyperconnected, more collaboration is desired but there isn't an easy way to do so. Travellers wish for more engagement with locals and sharing stories about their travels through authentic souvenirs. Both makers and travellers cited the issue of expectation misalignment where travellers expect something different when they are in Costa Rica. 

​​​​​​​

Having gathered these insights, the team designed a service for both makers and travellers that encourages new ways to connect and engage. 'Soulvenir' consists of a local-first-traveller-second souvenir-experience matching mobile application and an education platform focused on skill sharing and business operations.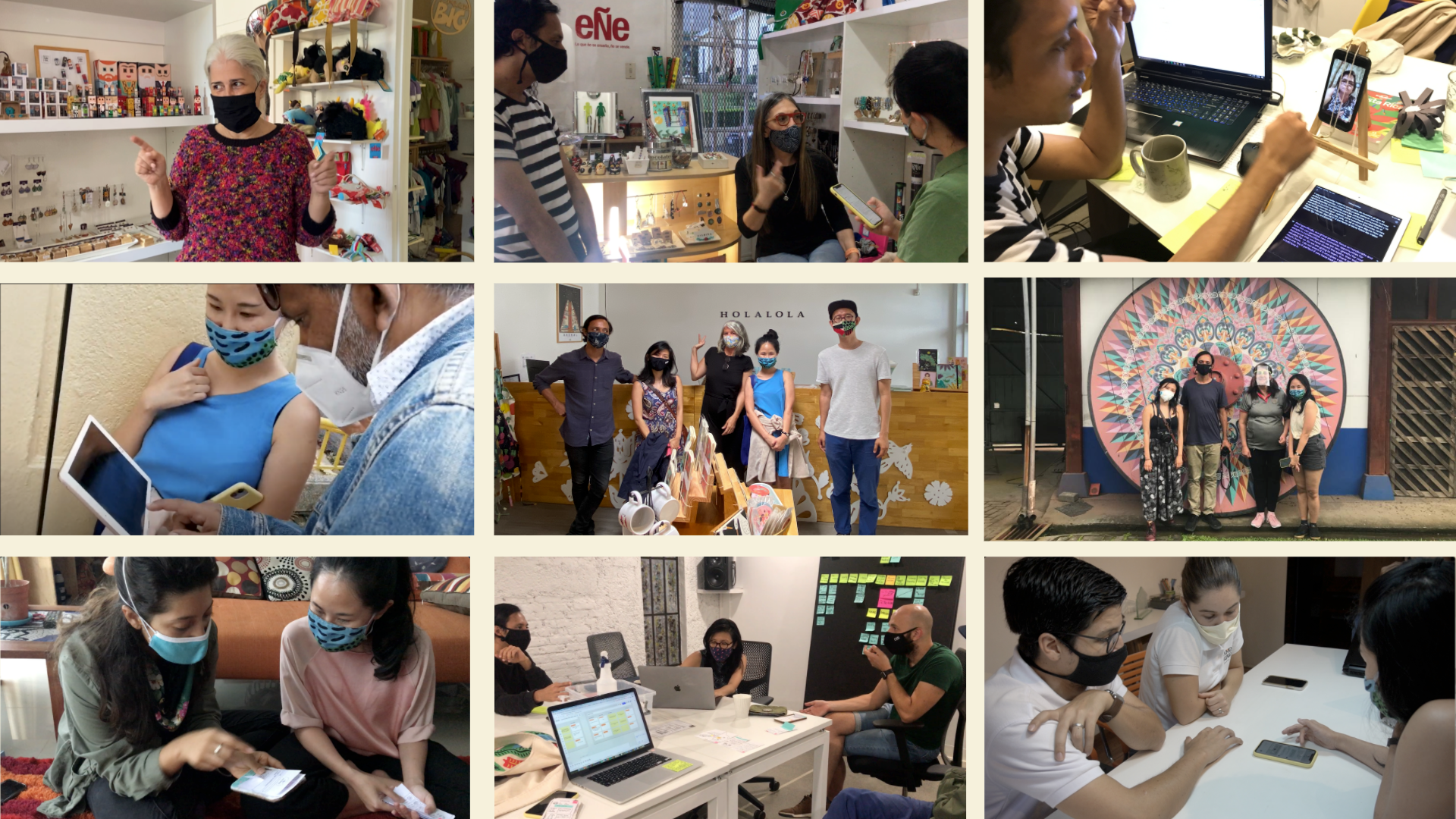 Through the mobile application, local makers can host travellers by creating experiences to accompany their products. It provides makers a platform to collaborate with other 'Compas' ('friends' in colloquial Costa Rican Spanish) where they can create a chained experience. Makers can establish connections by scanning a physical code, encouraging an in-person meeting to discuss the collaboration. The geolocation of the Compa Network shows established and potential collaborators around them. 
'Soulvenir' suggests tailored souvenir experiences for travellers based on their preferences and interests through machine learning algorithms. Travellers can then indicate their interests where they would receive a list of screening questions crafted by local makers to approve. After the experience, travellers would receive a souvenir and they can log it as a memento by scanning.  
As a complement to the mobile application, the education platform provides training on business operations, community building, and sustainability for local makers. Certificates and badges can be earned to show makers' commitment to the Compa Community by pledging to be a responsible community member and completing courses. 

​​​​​​​

'Soulvenir' bridges the intention-behaviour gap for local makers to collaborate, learn, and grow with each other, while facilitating genuine experiences and local engagement for travellers through souvenirs. It improves resilience by reinforcing and unlocking value embedded in the ecosystem, building communities, and sustaining local culture by sharing stories of Costa Rica to the outside world.